Why go to Sepilok or Kinabatangan river
You are guaranteed to see orangutans at Sepilok orangutang rehabilitation center. The experience is not quite the same as seen them on a track in a jungle but is still fully worth it. On Kinabatangan river safari you get to see variety of monkeys, macaques, might see orangutang and Borneo pygmy elephant, as well as rich variety of birds and reptiles.
What to see
Sepilok Orangutang Rehabilitation Center cares for young orangutans orphaned as a result of illegal logging and deforestation and those illegally caught and kept as pets. There are dedicated walkways in the Center and a viewing platform where orangutans are fed as part of their rehabilitation process. Recently rehabilitated individuals have their diet supplemented by daily feedings of milk and bananas. The additional food is purposefully boring to encourage the apes to start to forage for themselves.
You are guaranteed to see orangutans and get good pictures if you have a reasonable lens /zooming capability on your camera. It gets quite crowded around orangutan feeding time and the place is quite touristy. But orangutans seem to not mind and do their own thing which is come out on to the feeding platform, eat, hang around for a bit and go off back to the wood.
Kinabatangan river is the second longest in Malaysia and its lower flood plains are part of Sukau-Kinabatangan nature reserve. A number of lodges mostly concentrated around Sukau offer river tours along the river to see variety of wild life.
The boats go out early in the morning and later in the afternoon when animals are more active and conveniently, light is also better for pictures. We have seen a variety of monkeys including proboscis monkeys endemic to Borneo. We have seen a couple of groups of proboscis monkeys in the trees along the river and followed one group hopping along the river bank from tree to tree.
We have also seen several groups of macaques, a wild pig, a python and variety of birds. We almost saw pygmy elephant.When our boat reached the place where a couple of elephants were sited (guides from different lodges inform each other by mobile), the elephants went further into the jungle and all we could see we think was a silhouette of elephants and trees moving where they walked away.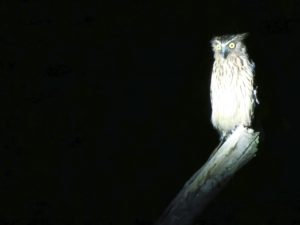 The night river tour departs after dinner. We saw several birds including owls and a  variety of reptiles – crocodiles and a few frogs. The experience of gliding quietly on the river looking out into the darkness and listening to night jungle noises is definitely recommendable even though you might not see any big animals at nigh.
We were booking last minute and most places, especially on Kinabatangan river were full.  It seems staying in a lodge on Kinabatangan and doing a day trip to Sepilok is a good option – but most of the lodges on Kinabatangan were full when we tried to book.  We stayed one night near to Sepilok at Paganakan Dii Tropical retreat which was fine. We then proceeded to Kinabatangan river and stayed in one of the basic lodges that was still available and that Paganakan Dii helped us book. From Kinabatangan river we took an overland transfer to Semporna to dive Sipadan.