Dallol in Danakil depression is about 120km from Mekele – the capital of Tigray region in Ethiopia. We arrived to Mekele on a morning flight from Addis Ababa. Tigray region and Mekele are part of Ethiopia highlands. The city itself is at 2,500m altitude. As the plane approaches Mekele one gets a good view of the scenic hills criss crossed by deep canyons and every slope terraced for growing food.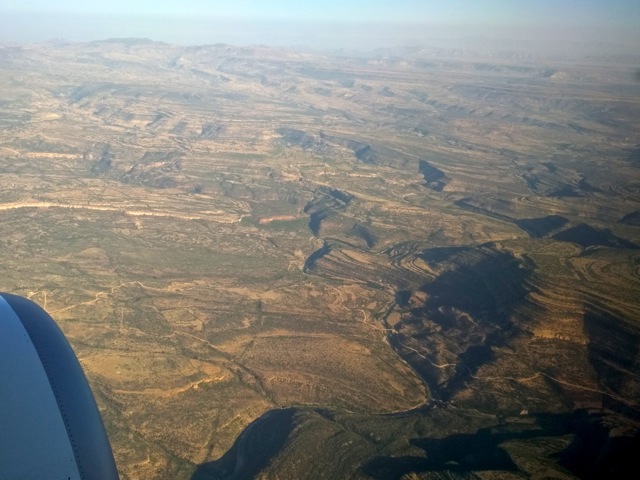 After meeting our tour guide in Mekele we joined the convoy of 3 cars all 4×4 and headed down to Afar region to the Danakil depression on a good paved road.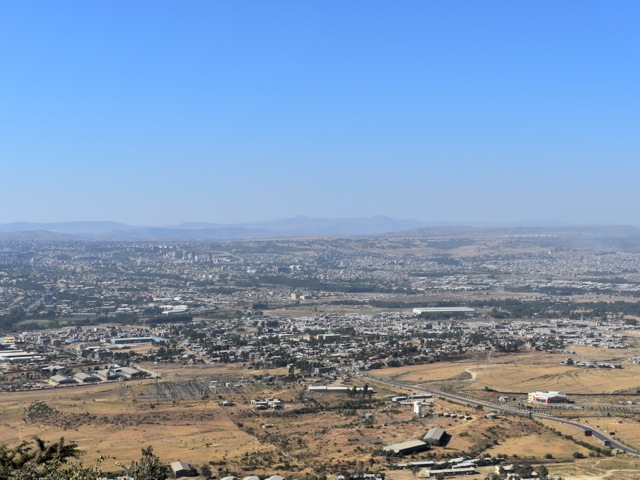 As the road heads out of Mekele and descends towards Afar the scenery continuously changes. We started in highlands at over 2000m elevation with a fair bit of vegetation and fields at the end of harvest season. We progressed down to desert and salt planes with altitude of 100m below sea level. The styles of houses and locals' dress also changed as we headed from Christian agricultural Tigray to mostly Muslim pastoralist Afar.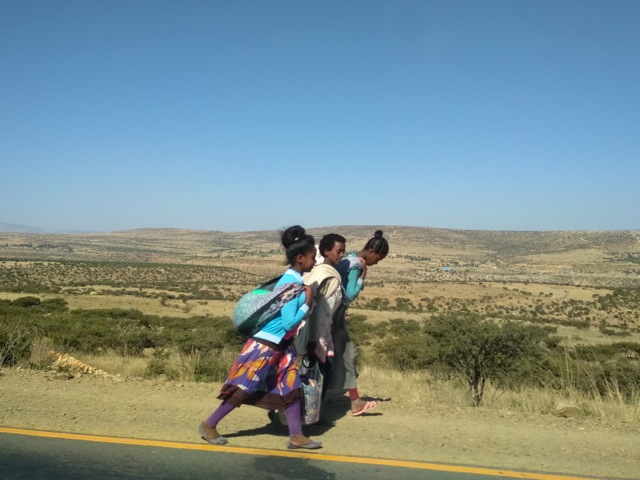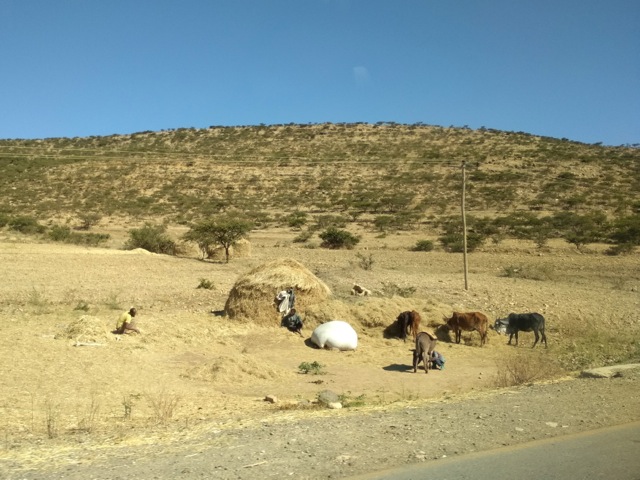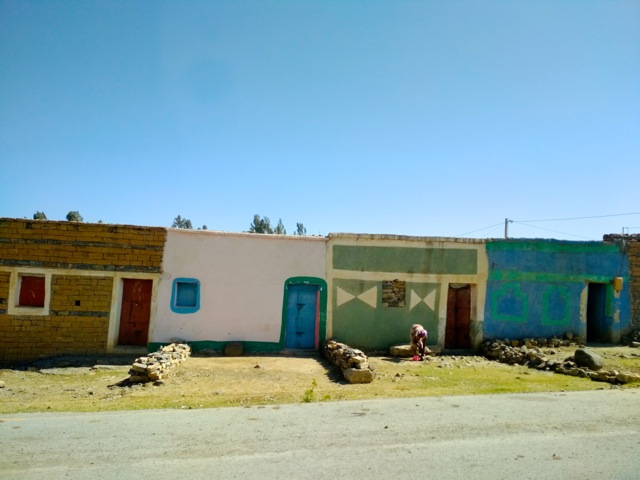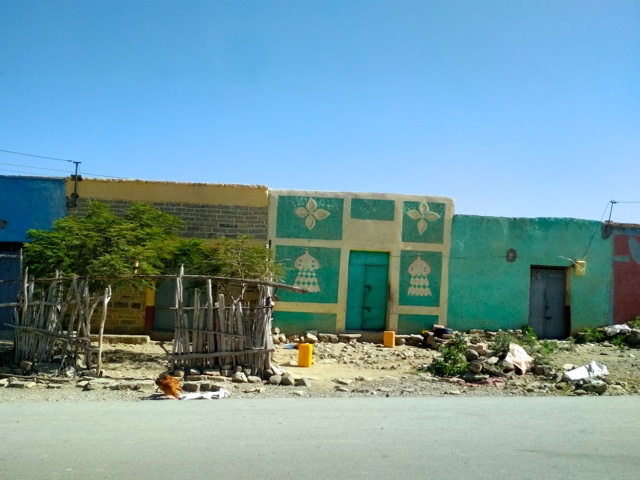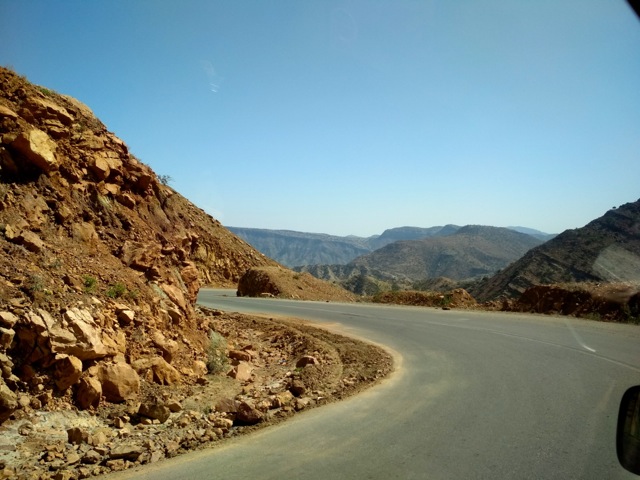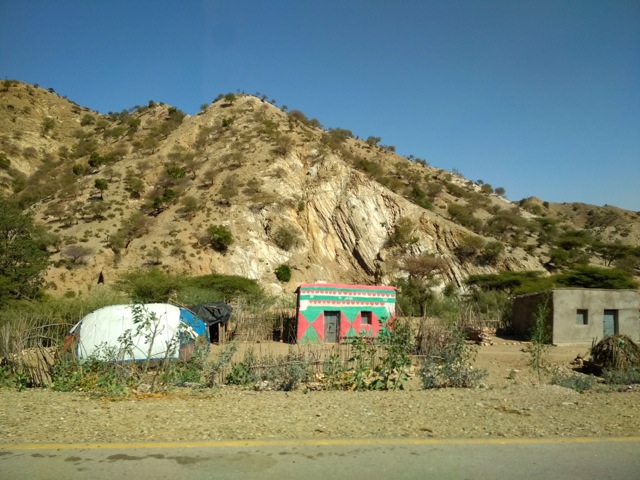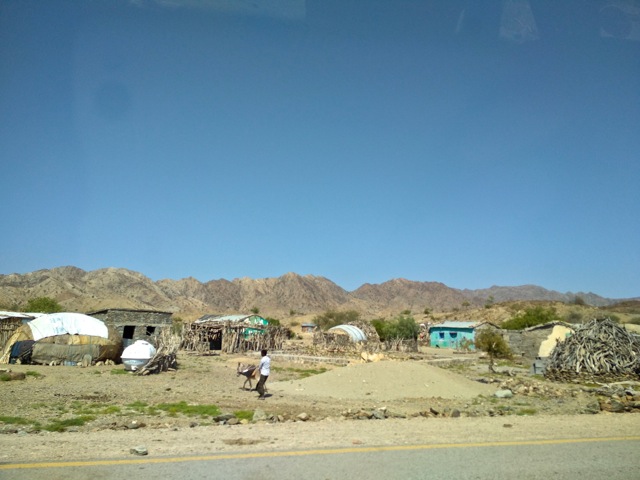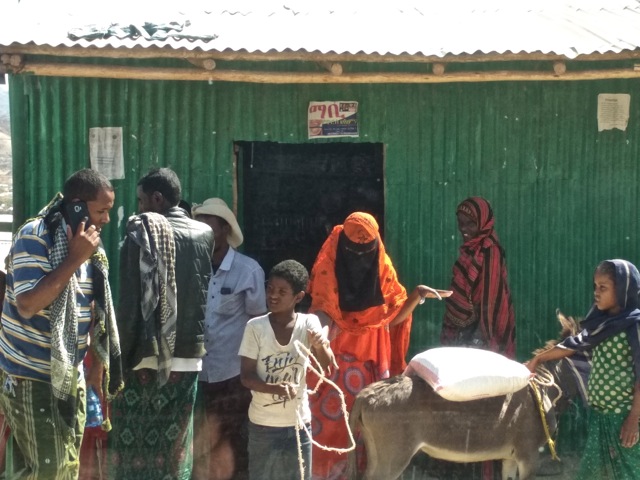 Along the way we stopped in Berhale for lunch. It is a very basic set up with a rice mixed with vegetable for food and some coffee to drink. Bathroom was also very basic – a concreted floor with a hole in the ground with a curtain fashioned from a bag which at some point held humanitarian food. Since the region is frequently impacted by droughts food distribution is not unusual and the bags in which the food arrived eventually end up used as building materials to cover Afar traditional huts and all sorts of other shelter.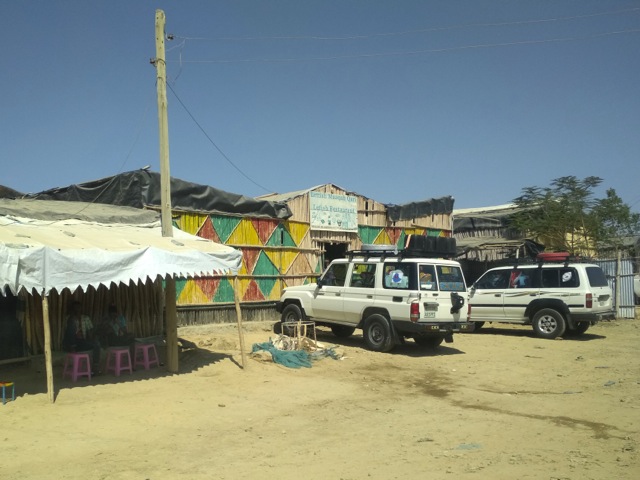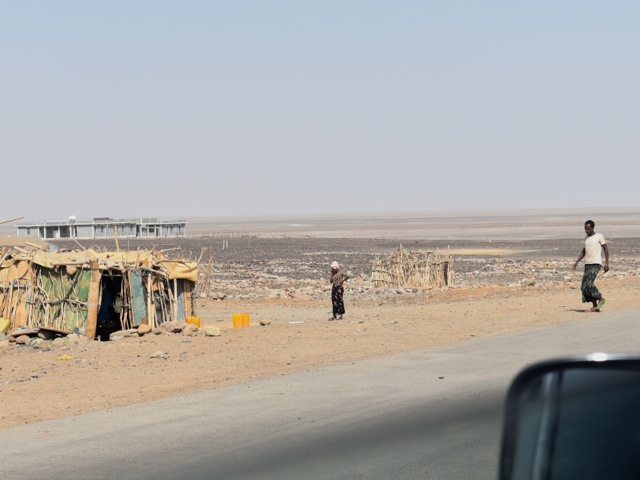 After about two hours of driving plus lunch we reached the salt planes and were in Danakil depression proper. The salt planes were once a bay in Red Sea before the tectonic planes shifted. The salt has been mined by Afar people for centuries and reportedly reaches 1km deep in places. The drive on the salt planes is a surreal experience. They range in color from near perfect white to brownish near the Dallol volcano and have all sorts of cool formations.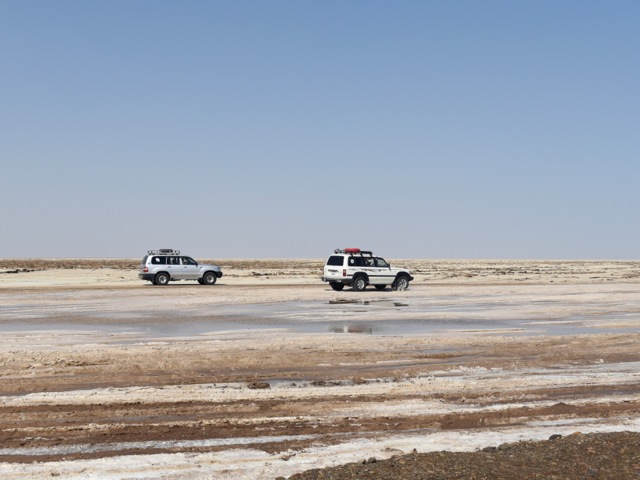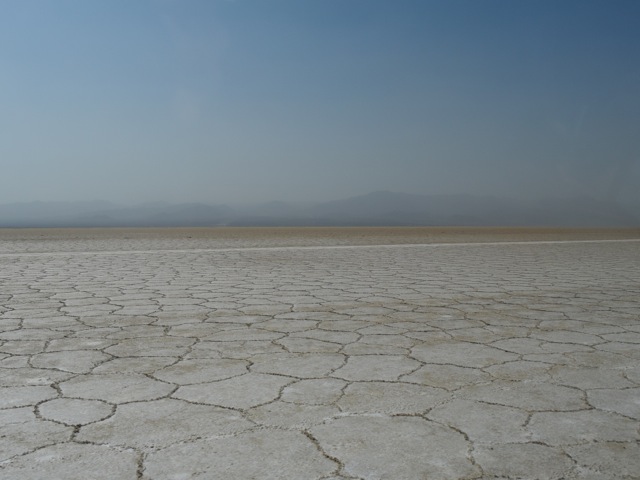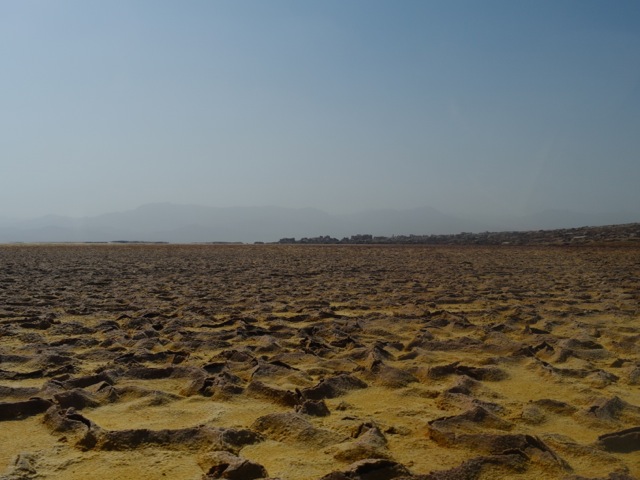 As we approached Dallol volcano salt planes turned brown color – a result of all the fumes from colorful geysers and sulphur springs at the Dallol crater. The cars parked at the base of the Dallol and we hiked up the very gentle slope dotted with volcanic vents.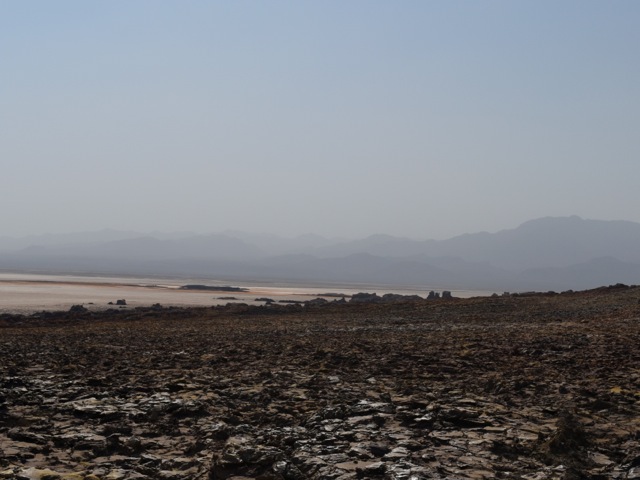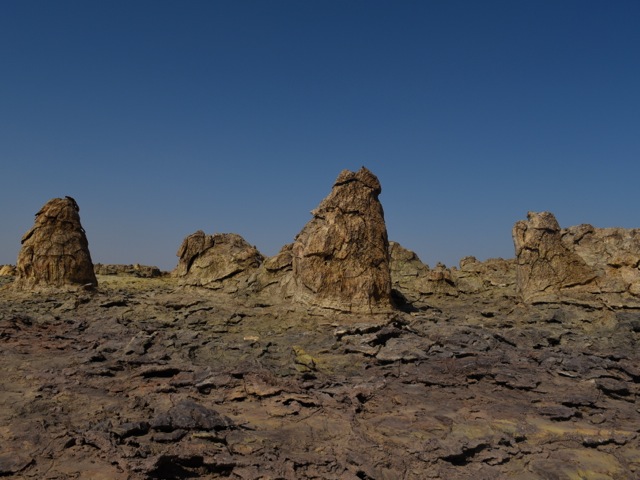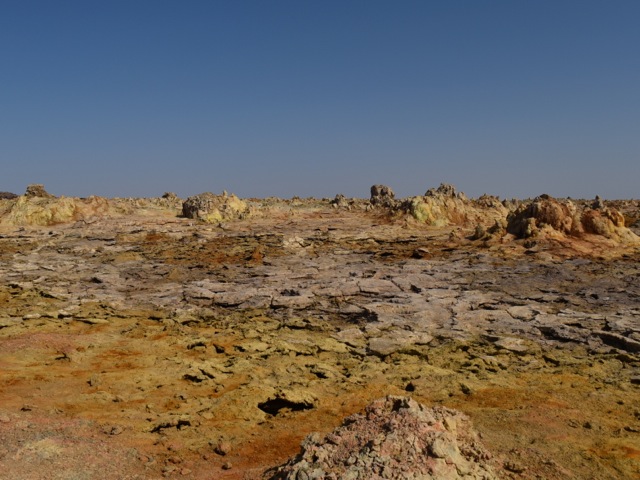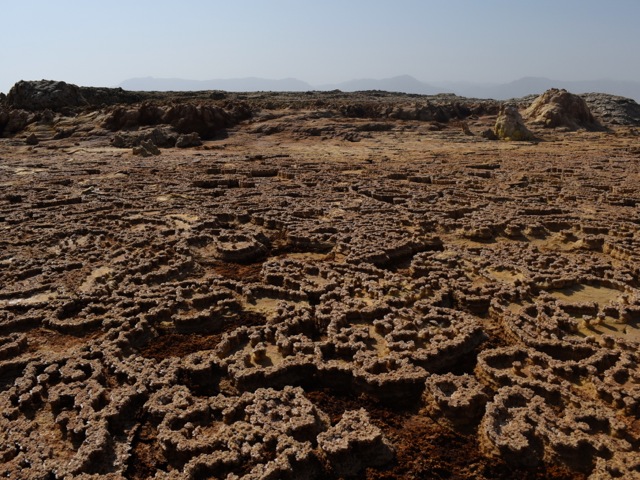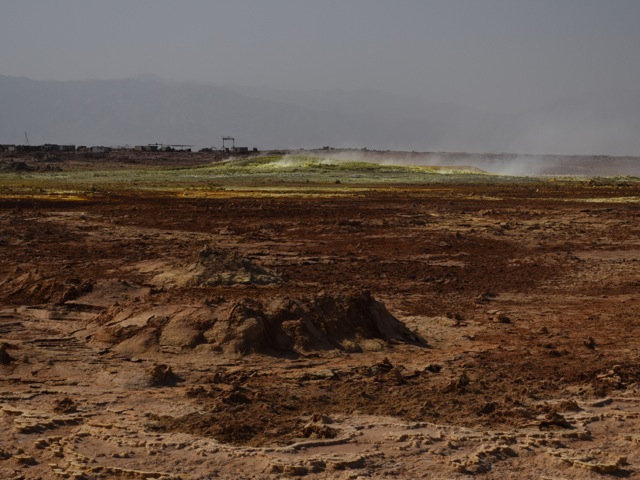 The bright colors are a result of a reaction where magma comes in contact with salty water and bubbles up to the surface. This is one of the most acidic places on Earth with PH near zero. There is a debate among scientists on whether there is life here or not in the form of microorganisms. Animals and birds can't survive here because of the sulphur fumes – we humans are better off because we are taller though probably nobody would be able to stay permanently. We were there in December in late afternoon and it was supper hot. Water is essential and proper footwear too as the surface on which you walk is very hot.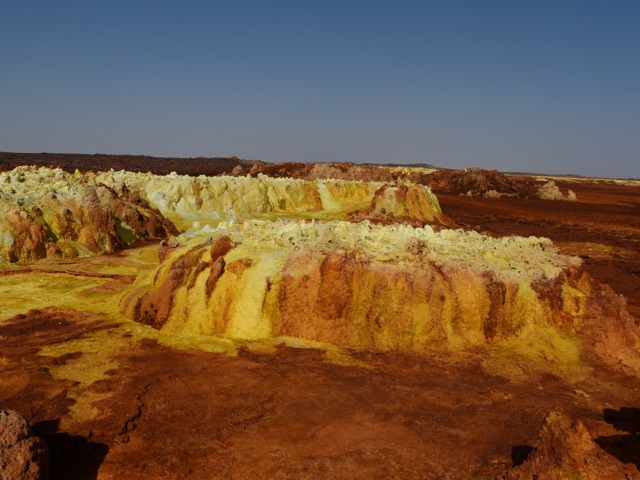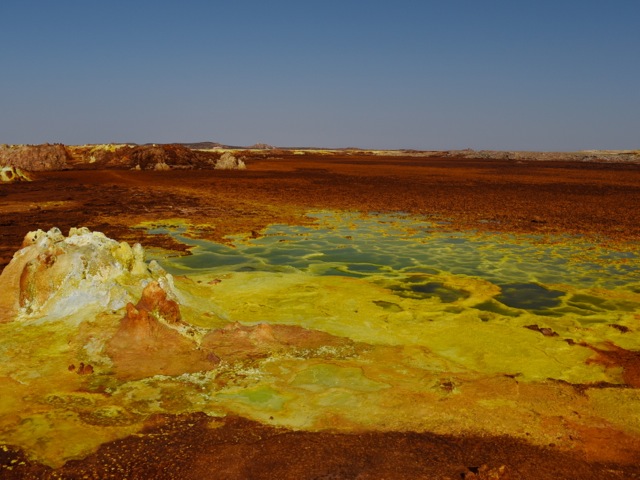 After exploring the crater we headed back to the salt planes to check out salt cliffs purple in color, an oily lake and a super salty lake under the salt crust of the plane. On the trip along with the guides it is required to have security guard. The area used to be dangerous due to proximity with Eritrea border – only about 15km away. Since 2018 relations between Eritrea and Ethiopia improved and security risk is considered less though situation remains fluid with conflict within Ethiopia and between regions being more of an issue. Security guards in any case is also a job creation strategy in the are where economic opportunities are very limited.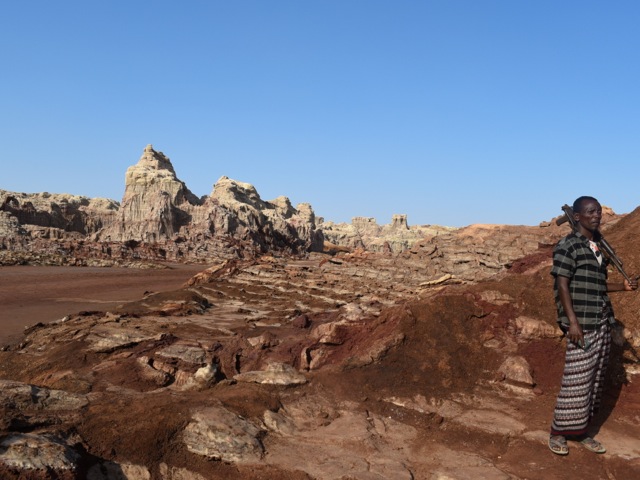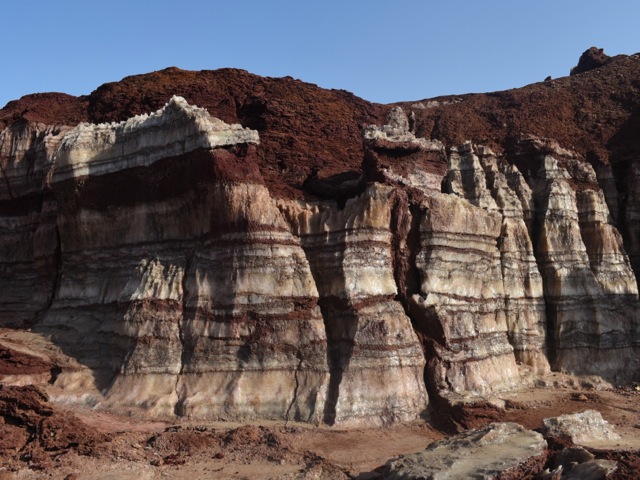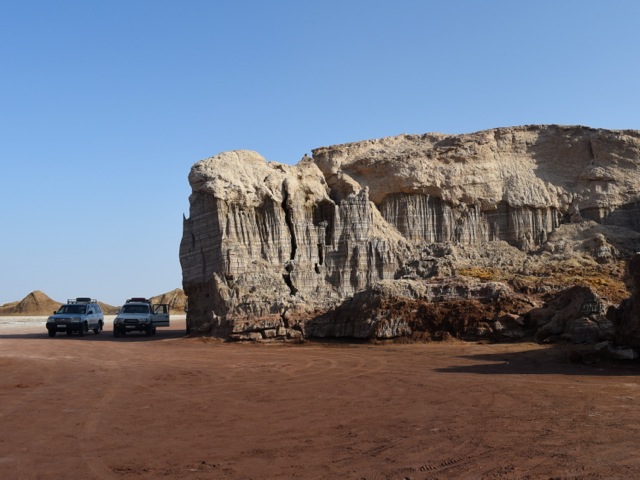 The "oily lake" called Gaet'ale is an thermal spring that got reactivated during volcanic activity of 2005. The oily feel of the water is actually due to the high concentration of salts and not because of oil. The red color is the result of high concentration of dissolved iron. The springs emit CO2 with varying degree of intensity. The researchers find many dead birds and insects that suffocate by inhaling high concentrations of CO2 around the springs. Researchers also argue that more monitoring and measurement is needed to manage possible risk to visitors.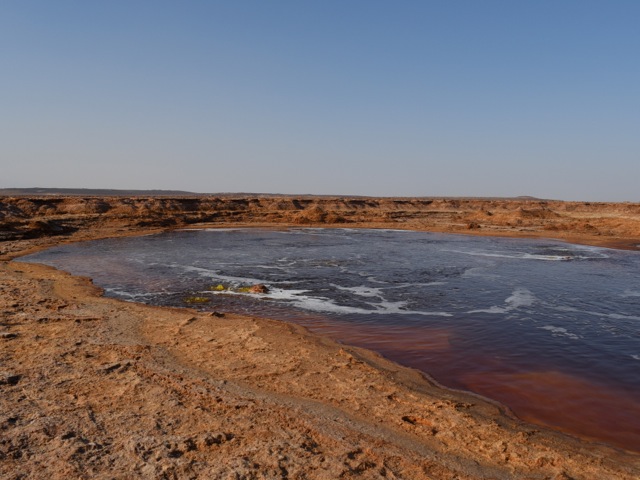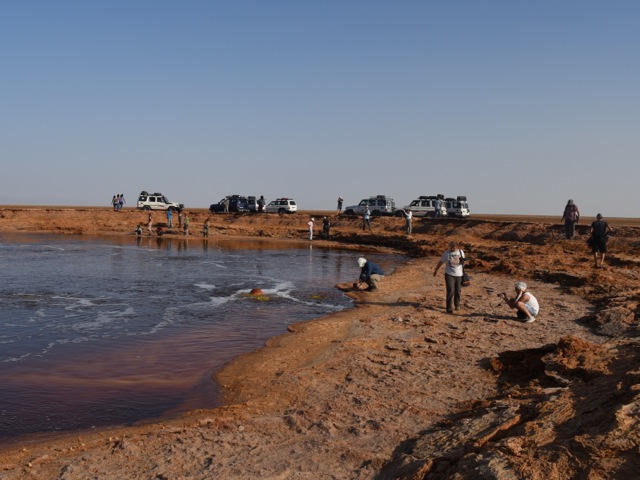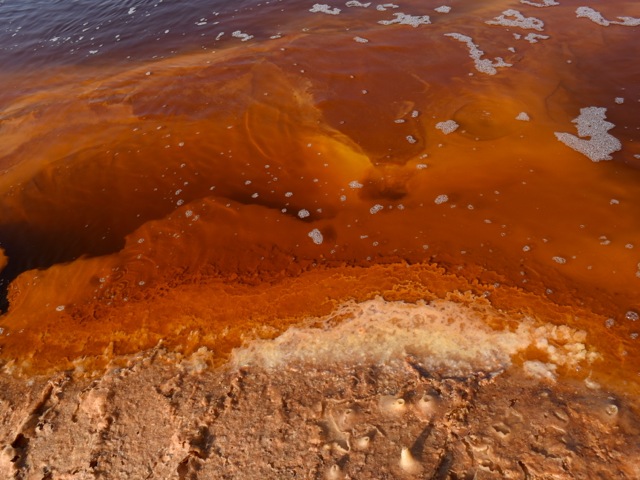 Driving across salt planes we got to the mining site where Afar people mine salt in traditional way. On the day we were there the miners were not working reportedly because of some dispute. But we got to see square slabs of salt carved out of the plane and ready to be transported – by camels to the markets of Ethiopia.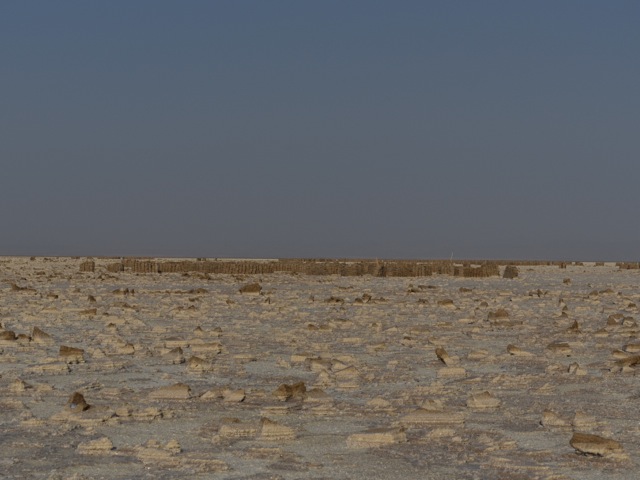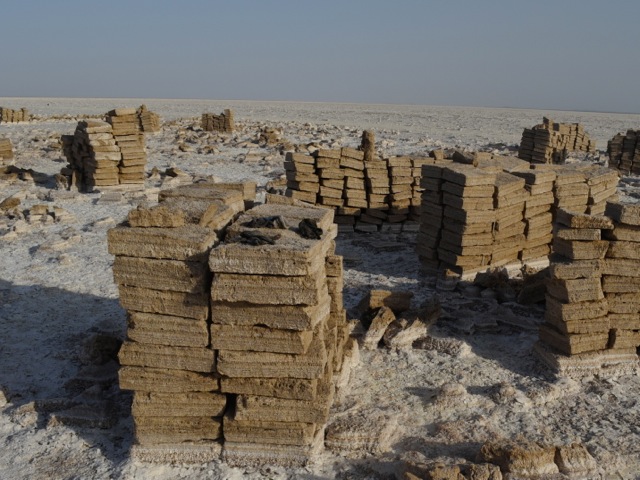 As we headed toward lake Karum we came across the spot where there is a break in the salt crust and the very salty water of the lake Karum is visible under the surface layer of salt. The water is super crystal clear and vey very salty (we had a taste). We opted against submerging into it – but seems some tourists go for it.
By the time we reached the shore of lake Karum sun was setting down. We got beautiful sunset reflection views over the salty lake.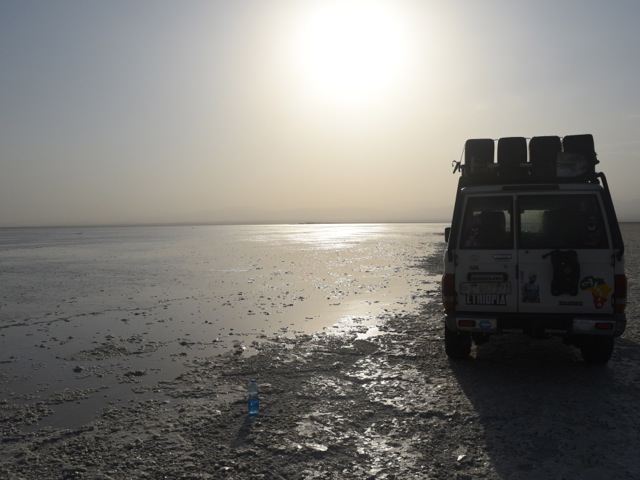 We then headed back all the way to Berhale to overnight in a guest house. We got more stunning scenery views and camel caravans on the road back.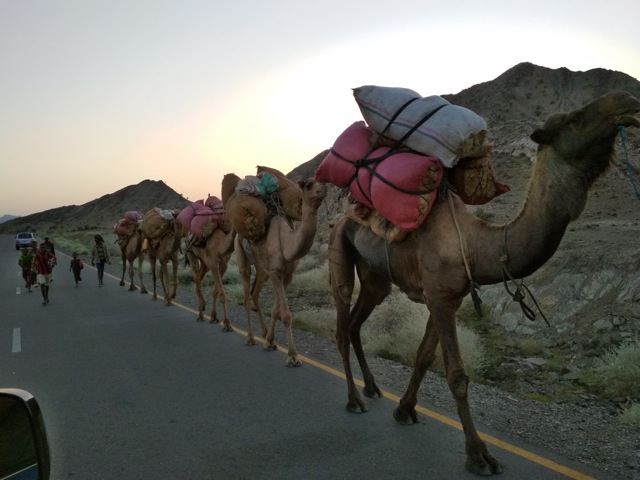 The guest house where we stayed was pretty basic. A room with a dozen mattresses on the floor; toilet in a separate building and a cold bucket shower. It is a good idea to bring a sheet or a sleeping bag to sleep in and baby wipes/wet tissues. The food was delicious though and we were so tired after the long day that it did not take long to fall asleep. Next morning we headed back to Danakil depression on a different road this time to the Erta Ale volcano.