Lakes Langano, Abijatta and Shalla are about 200km south of Ethiopia's capital Addis Ababa with Lake Ziway along the way at about 150km. These lakes are a part of the string of East Africa Rift Valley lakes stretching further south through Kenya, Tanzania, Malawi and Mozambique. This is the line along which Africa tectonic plate is splitting at a rate of 6-7mm a year. In 10 million years a new continent will appear and the ocean will cover the Rift Valley. For now East Africa Rift Valley is incredibly scenic part of Africa and Ethiopia has a good chunk of it from Danakil depression in the north to lake Turkana in the south and many lakes and striking hills in between.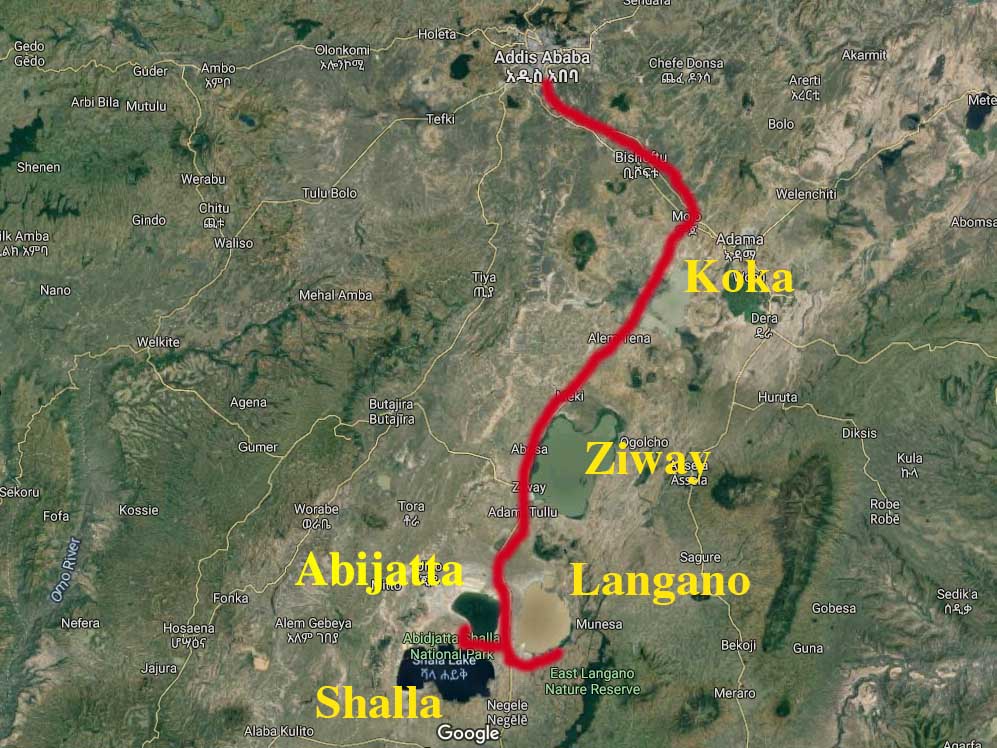 Lakes Langano, Abijatta, Shalla and Ziway are relatively easy to reach from Addis Ababa by car through Adama expressway to Mojo and then the road going south to Hawassa. The expressway is an excellent recently built modern tall road that so far takes you to the city of Adama but will eventually be part of the road going all the way to Djibouti.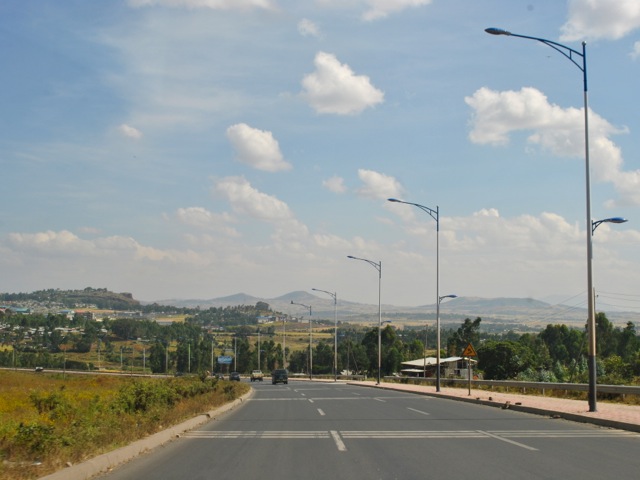 After passing Bishoftu – a town surrounded by four small lakes all part of the same Rift Valley, the road reaches Mojo – home for the main dry port of Ethiopia and a hectic little town packed with trucks. Here is where you exit the nice expressway and go on the "normal" road towards Hawassa. The new Hawassa expressway is under construction and once finished will make the trip much shorter and a less intense driving experience. For now it takes about 3.5 hours to get to Langano from Addis.
The two-way Hawassa road passes through numerous towns. There is a lot of traffic including overloaded not necessarily road-worthy trucks, tricycles, and horse drawn carriages. There is also cattle walking along the road or crossing it and also people walking everywhere. The situation is further complicated by the poor state of the road with lots of potholes. Drivers prefer to drive around potholes even if it means going to oncoming traffic at high speed.
Bottom line driving is not easy and absolutely not to be attempted in the dark. There are many tour companies that offer trips covering these lakes so this is another option if driving in such conditions does not appeal. We went to the lakes in the fall of 2017 and since then security situation has been fluid in some of the areas. The unrest often means that roads get blocked or protesters try to throw stones at vehicles. It is always good to check before heading out whether roads are calm.
After turning south from Mojo the first lake along the road is lake Koka. This is a man made lake – a reservoir created by the Koka dam blocking Awash river. The size of the lake varies greatly between rainy and dry season. The picture below is at the very end of the rainy season when the lake is at its largest. In dry season water recedes and floodplain is farmed.
The road continues through fields and villages. Driving during Saturday morning hours we saw lots of people walking along the road to the nearest markets.
After about 85km on the road from Mojo is the town of Ziway on the lake of the same name. As you approach the city along the road you see hundreds of marabou storks cruising in the sky and dotting the trees along the road. It appears Marabou storks thrive in Ethiopia as they tend to hang around landfill sites in busy towns across the country with plentiful food supply.
Once in Ziway we headed first to the pier to have a look at the lake Ziway. Lake Ziway is a big lake with a surface of about 430 square km and an average depth of about 9 meters. The lake has rich bird life and hippos. It is possible to take a boat to go around the lake and to visit some of the islands. One of the islands Tullo Gudo is where the Ark of Covennat was stored for safekeeping at some point according to tradition. As we were heading further down to Langano on the same day we did not do the boat and island thing but stopped for a lunch at Haile resort (owned by the running legend Haile Gebrselassie). Many tours overnight in Ziway as part of the longer rift valley lakes trip which allows for time to explore Ziway lake more.
Lake Ziway formed during the last Ice Age and used to be part of one giant lake encompassing Ziway, Abijata, Shalla and Langano. Over time water levels came down and the four distinct lakes eventually formed by about 2000 years ago. Geological changes in the rift valley combined with increase in human activity contribute to changes in water levels and quality.
After our lunch in Ziway we headed further south towards lake Langano. The road stretches along the lake and is lined with flower farms that have expanded fast in recent years turning Ethiopia into the second larges flower exported in Africa after Kenya. We stayed in Hara Langano lodge on the south eastern side of the lake Langano. Reaching the lodge required taking off the main road and shifting towards a local road which was mostly paved to go around the southern shore of the lake.
Taking this road we were getting deeper into rural Ethiopia. There were villages, small subsistence farms and kids running around everywhere. The birdlife along this rode was amazing. We saw plenty of hornbills and all sorts of other spectacular birds.
Hana Langano lodge is quite remote located away from the main concentration of lodges along the main road. It has basic wooden cabins, hot water and reasonable food. The cabins are facing the lake and you can see hippos from your room. Same hippos at night come and graze in the vicinity of the lodge. We saw a group of colobus monkeys passing through the beautiful huge trees dotting the lodge. There was also plenty of birdlife.
Amazingly for this relatively remote location – it took us nearly five hours to get there – there were two fairly large groups of Chinese and Japanese people from Addis Ababa. They were well equipped with fishing gear, tents and all things needed for preparing big dinner – including own barbecue grill and blow torch for starting the fire.
Next morning, after a nice breakfast we headed for the Abijatta Shalla National park – back to the main road. This national park, like other national parks in Ethiopia are not exactly as well run as the parks in neighboring Kenya or Uganda. You can self drive through the park but must take a guide with you when you pay for your permit at the gate. We did not pre-book the tickets and did not see many tourists in the park.
After passing the guards's house presumably national park starts. We were quite excited to see ostriches walking towards us along the road. But then after driving a bit further we passed a fence and it turned out that the ostriches we saw were an ostrich farm not exactly wild park ones.
We then proceeded to the hill top with an incredible view over both lakes and the narrow strip of land separating them. The view was stunning especially given the contrast between the two lakes. Shalla is a deep 257m lake covering a crater of ancient volcano. Abijatta is a shallow shrinking lake that lost about 100 square km or half of its surface since the 1980s. The land between the lakes is also part of the national park so it was surprising to see permanent villages, cultivated fields and cattle scattered over the area. Population encroachment is a problem across the national parks in Ethiopia it turned out. By some estimate about 50,000 individuals reside in Abijtta Shalla National Park.
From the hilltop view point we headed down to the park. The route did not appear to be frequented by tourists. Most tourists – at least those on a big bus with what seemed to be school kids that we saw – finished the tour of the park by taking pictures at the hilltop view point. The roads in the park are not exactly maintained and as we were there just at the end of the rainy season some of the driving we did was on riverbeds. It would be impossible to know where to go without the guide – though even guide was not too sure at times as rains washed away parts of "roads".
We first went towards the lake Shalla. It is a large lake of dark blue color framed by spectacular cliffs. Because of its depth the lake holds more water than Lake Tana even though Lake Tana has surface area almost ten times larger. As we were heading down towards the lakes we saw (not wild) camels with their herders. We also saw a horse-drawn carriage heading down – amazing given that even in 4×4 it was quite a fit to drive on that road.
But then we reached the lake and there was an empty shore and lots of flamingoes and it looked perfectly wild and beautiful. It was before our camera lens upgrade and we unfortunately did not get any closeups of these beautiful birds.
Then we went a little further up the shore of the lake towards the hot springs and were surprised to see all the people there. They were cooking corn in the boiling water coming out of the ground and then further down the stream where the water cools a bit as it reaches the lake – doing laundry. There was an entire settlement set up on the shore. All still firmly inside the national park according to the map.
From hot springs we headed across the land separating the two lakes towards lake Abijatta. Driving through washed away roads we passed many little settlements with their gardens. We saw some nice birds along the way but no mammals of any kinds, even monkeys.
It is only as we were reaching lake Abijatta we saw several Grant's gazelles in a distance. They were very skittish – unsurprisingly as it seems encounters with humans do not usually go well for them even in what is technically a national park.
Lake Abijatta is a very shallow lake of brownish color with very scenic hills on the western side of the lake. The lake has been shrinking fast over the past thirty years and is now surrounded by a wide margin of dried lake bed.
As we walked closer the ground got softer. The surface of it was actually crispy solid dry but under it was shifty moving mud so you could not get all the way to the water really. There were quite a few flamingoes on the lake though we could not quite get near enough to get good pictures.
The grass around the lake and through most of the park area that we drove through was very short – looking like a perfectly manicured lawn. And then we saw a large herd of cattle grazing next to the lake – all still inside the national park boundaries.
Done with Abijatta and Shalla we headed for the exist from the park and towards lake Langano. We stopped at Sabana lodge for a late lunch. The lodge overlooks lake Langano and is a popular spot for Addis residents on weekends. There are several less fancy lodges along the shore and a few modern houses.
Lake Langano is reportedly free of bilharzia or schistosomiasis – a disease caused by parasitic warm carried by snails – and is safe for swimming. We did not try our luck and as it was not that hot yet did not see many people in the water. We enjoyed a nice lunch overlooking the beautiful lake before heading back to Addis Ababa after quite active weekend exploring the four lakes.
Ethiopia is a densely populated country of 100 million people and enforcing borders of national parks is very difficult. Competition for land and resources is a major source of conflict. On some level it was fascinating to see the people and their cattle and their villages in the stunningly beautiful environment. But it was also clear that wild life does not have much chance and is being squeezed out. Overgrazing in these marginal areas that are often hit by droughts makes one also wonder if the large herds of cattle are sustainable. Water resource use as towns around lakes grow also threatens the lakes themselves. Ethiopia has incredible landscape and nature and still some wildlife left as we saw in other national parks in Awash, Simeon mountains and Nechisar. As Government plans to boost tourism hopefully chances for wildlife in national parks will improve too.